From machine performance to product quality.
An efficient headbox means high quality paper. That's why there is YES – HEADBOX, the specialized assistance service on any type of machine. YES - HEADBOX includes both On-site assistance and the intervention by the technical office situated in Marlia (Lucca, Italy), that places all its expertise at the service of the customer.
EVOLVED TECHNOLOGY AND GLOBAL ASSISTANCE.
Leading-edge instrumentation support the YES specialists in survey operations:
■ Precision measuring instruments and special gages to check dimensions and backlash between headbox component parts.
■ Optical instruments to check alignment and levels.
■ Pressure analyzers.
■ Laser instruments to check linearity and flatness.
■ Electronic goniometer.
■ Roughness measuring instruments.
■ Microscope.
■ Thermal imaging systems.
MECHANICAL INTEGRITY SURVEYS
Mechanical checks of the headbox include:
General and visual check of the status of the headbox.
Internal headbox inspection for geometry check or cleanliness issues identification.
General alignment check of headbox versus forming elements and correction of setting to proper geometry.
Check of alignment of parts inside the headbox structure that may cause uneven flow distribution over the forming section or cross flow inside the unit.
Check of flatness and linearity of critical parts (mainly those in proximity of the jet discharge point) which normally have direct impact on the quality of the jet (geometry and turbulence level) and at the end to final paper quality and properties profiles across the machine.
Check of lip parallelism with special gages.
Check of headbox moving parts to identify backlashes or assembled parts anomalies.
Check of clearances among assembled parts inside the headbox that normally leads to fiber build-up and unreliable and repetitive movements.
Inspection of surface status. Corrosion problems, local defects on surfaces and critical sharp edges or loss of general surface finishing can be analyzed and critically addressed to a repair or replacement of parts.
An under-pressure behavior test can be done on the headbox where the internal pressure of the stock is simulated with large air tubes. The test allows identifying anomalous movements of parts (backlashes, looseness or weak design of parts) which are not evident when the machine is not running but do take place during machine production. The test allows also to determine for some parts the adequacy of running higher machine speeds than those of the original design.
Thermal inspection of the headbox structure to identify anomalous deformation of parts that can lead to improper jet uniformity or flow distribution inside the unit.
STOCK APPROACH AND DILUTION SYSTEM AUDITS
Toscotec specialists can survey headbox approach flow and dilution systems.
Audits of the systems include:
■ Approach flow and dilution system machines investigation for proper operation or for correct dimensioning versus current production.
■ Layout and pipe routing inspection for proper design or optimization and energy consumption improvements.
■ System balance calculation and check for current operation verification or improvement.
■ Pulsation measurement in the approach line and critical interpretation of data to identify sources and implement solutions.
TRAINING
Toscotec can provide specialist team training sections for operators and maintenance technicians in order to bring them to a perfect knowledge of the product and its potentiality, together with a high consciousness of critical items that need attention, highlighting preventive maintenance actions or routine control.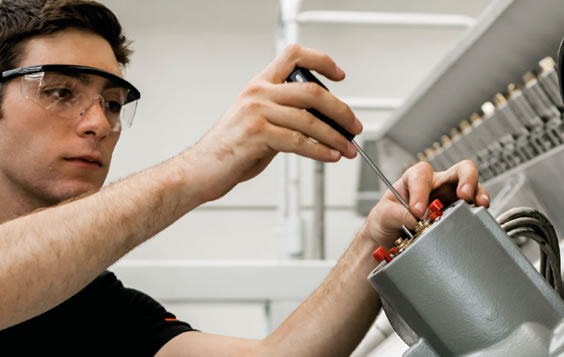 HEADBOX OPERATION AUDITS
Identification of problematics with the operation of the headbox which lead to poor final paper quality (cross machine profiles or absolute values, fiber orientation issues, paper properties and stability), machine global runnability issues and/or anomalous consumptions are of the utmost importance to propose corrective actions or implementations on the unit.
Toscotec specialists can monitor the operation of the headbox, correlating the problems or limitations identified together with production people with internal flow regime, headbox setting, jet geometry or other causes coming from outside the headbox.
Toscotec specialists can eventually perform mechanical checks or suggest them at the next opportunity (machine shutdown or necessary instruments availability).
MACHINE SPEED OR PRODUCTION CAPACITY INCREASE AUDIT
A headbox with its auxiliaries and a paper machine are normally designed with certain specifications of paper quality and paper production capacity and with some defined limitations. Sometimes it can be desirable to boost the headbox capacity to higher speed than the designed or identified limitations, or change paper quality or grades.
Toscotec can support customers in order to analyze current headbox capacity and identify limitations both in terms of mechanical strength (speed increase will lead to an increase in the internal pressure with more stresses and deformations of the parts) and flow limitations due to the internal design of the headbox itself (production and speed increase will lead to a flow increase running through the headbox), as jet conditions and geometry versus the forming section.
Toscotec can propose solutions and corrective measures to overcome the identified limitations in order to bring the headbox to the new desired production capacity and avoid undesirable failure of parts.
HEADBOX PARTS REPLACEMENT OR REPAIR
Specialized technicians from Toscotec can perform or supervise activities for the replacement of critical parts of the headboxes (slice lip, apron lip, mechanical jacks or actuators, rectifier rolls for air-padded headboxes).
Local repairs on damaged surfaces (local and small nicks, porosity holes or streaks) can even be done on site after investigation of the severity of the damage.
Replacement parts (critical or not) can be provided by Toscotec when a drawing is available or after field measurements when no documentation is available.
Spare parts for Toscotec headboxes can of course be provided at original design or with geometrical or material changes when required.
Toscotec can provide parts made out of stainless steel normally used (AISI 304L, 316L, 317L) or special steel (duplex stainless steel or high chemical- and wear-resistance materials) when required.