Connect the efficiency.
Yes Connect-Vision. The new device for remote assistance by Toscotec.
Yes – Connect-Vision is the device that puts the operator in contact with the Toscotec expert, allowing him to see on his PC, in real time, what the operator is seeing live, interact with him in a bi-directional exchange of audio-video information, and promptly guide him toward the resolution of the problem.
■ ERGONOMIC HELMET complete with: HD videocamera and visor to transmit images in real time. Headphones and microphone for voice communication and isolation of surrounding noise
■ LED TORCH with mobile secondary videocamera complete with zoom, focus and automatic exposure, for safely viewing inside the machines
■ CENTRAL UNIT that elaborates the data and allows their fast, continuous transmission
■ REMOVABLE BATTERIES with 2 hours of autonomy, guaranteeing continuity of the job
YES – CONNECT-VISION.
CONNECT WITH EFFICIENCY.
Yes – Connect-Vision assures important advantages that resolve every issue and improve the global efficiency of the machines.
■ Immediate assistance in every country in the world.
■ Non-stop 24/7 service.
■ No problems as far as language for communicating.
■ No difference connected to the operator's know-how.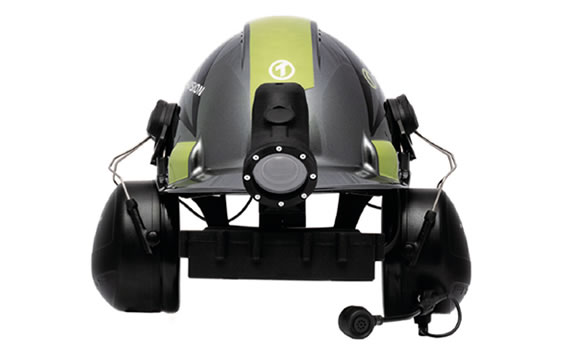 A COMPLETE SYSTEM FOR A PERFECT CONNECTION.
Yes - Connect-Vision integrates the most evolved technological systems to guarantee the best use by the customer and a perfect communication with the YES specialist.