Toscotec believes that providing its customers with the best service for process upgrading and stability it is key to improve the machine run-ability and the O.E.E.
The ability to analyse the customer's concerns and issues is based on Toscotec's long experience in papermaking and on the cooperation of different departments. In the areas of machine run-ability and quality problems, as well as process improvement, our service team can provide a wide range of services:
Process Analysis
Toscotec's experienced team, equipped with the proper tools, performs analysis on process water, testing the cationic demand, the PPM after the floatation unit, testing its efficiency, the consistency and the retention of the tissue machine; it also performs tests for stock preparation analysis, testing the consistency and the refining degree (Schopper Riegler) before and after the refiners.
Chemical Analysis
Toscotec analyses the amount of chemicals used in the process and offers suggestions for the use of chemicals and their efficiency, particularly for the coating mix and its performance.
Paper Quality Analysis
Toscotec's experienced technicians analyse the paper quality and offer suggestions on how to improve it. They also check the formation and quality parameters, such as strength, elongation, thickness, hand-feel/softness, absorbency and wet strength. All these parameters can often be optimized. The result of Toscotec's team analyses and evaluations is the improvement of the O.E.E..
Clothing Checks
Toscotec analyses the paper mill's felts and wires, compares scan-pros and offers suggestions on how to improve their life and performance, hence cutting costs.
Presses and beltes Checks
As for the felts and the wires, Toscotec offer suggestions on presses and belts' usage/maintenance, in order to achieve better performance and improve the machine availability, obtaining higher efficiency.
Coating performance Checks and Analysis
Toscotec's service team boasts extensive experience and know-how on the coating mix. Toscotec offers guidance on how to balance the coating mix and how to improve the efficiency of the chemicals, obtaining higher bulk, stretch or softness.
Yankee and blades Checks
Toscotec checks the blade holders and verifies the blade angle and solutions to obtain the right paper properties. The correct setting of the Yankee blades allows improving the paper quality. Toscotec service team provides support to achieve the right quality and angle of the Yankee blades.
Paper profile Analysis and Adjustment
The paper profile has an impact on the Yankee dryer's efficiency. With an even profile, the drying system performs better and more efficiently. Toscotec's service team improves the tissue machine's efficiency, by analysing and adjusting the paper profile and reducing dryness needs.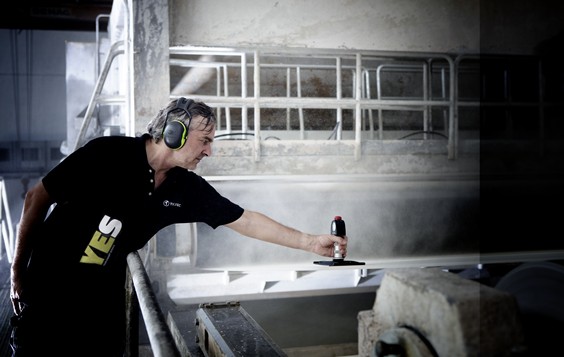 (O.E.E.) THE OVERALL EQUIPMENT EFFECTIVENESS
is the most important figure in terms of paper machine's efficiency. Toscotec's service team offers substantial expertise in the areas of process and machine run-ability, by performing tests and analysis of the water loop, stock preparation and paper quality.