Drying Optimization package for Energy Saving
TT DOES is the optimized Dry & Press package offered by Toscotec for minimizing the energy consumption in tissue manufacturing processes. It is a new modular approach combining the last technology developments of Toscotec Pressing Systems, the TT SYD Second Generation with the low carbon footprint Milltech Yankee Hoods. A synergy of different equipment dedicated to improve the performance of the tissue machines, to reduce energy consumption and cut operating costs.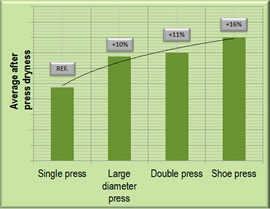 THE PRESSING SYSTEM
Extending the press section effectiveness, a more consistent and higher dryness can be provided. Beyond the basic configuration of a single TT SuctionPressRoll, large diameter suction presses and double presses configurations are available to increase the paper dryness. Ultimately the TT XPress (a state of the art shoe press concept) can be used to boost the post press dryness balancing with the bulk requirement.
TT SYD
TT SYD applications have reached higher performance thanks to the design achievement of an optimum ratio of the height, width and pitch of the dryer ribs as well as of the shell thickness which increase the overall heat exchange capability at a given steam pressure.
Optimization of TT SYD performance is also due to the innovative and patented heads insulation system.
Shell integrated design, selected waterproof and heat-resistant panels can reduce steam energy loss up to 6%.
MILLTECH YANKEE HOOD
The Hood with the Yankee Dryer are an inseparable team and key components in drying. Increasing overall energy efficiency by some percentage points is possible by optimizing the balance between Yankee and hood drying, and between the contribution of the dry and wet ends of the hood. But also stability of the process is another essential optimization factor.
The choice of the hood is not straightforward, but with Toscotec and Milltech combined experiences we are now able to supply the tissue industry with a complete dry-end package, providing different and wide tissue machine designs based on different combinations between press sections, steel dryer and hoods.