Toscotec Short Approach Flow technology
The pulp and water processes in a tissue line offer considerable potential for energy saving, through intelligent, tailored design.
The use of raw materials in the production of tissue has evolved over the last few years in favor of short and recycled fibers and there are distinct regional variations in raw materials usage as well. With this in mind, stock preparation has taken on more significance than ever before in ensuring high quality standards and tissue machine runnability. But alongside these issues, the energy factor has come into sharp focus for both environmental and economic reasons, and our research and development activities have uncovered significant new opportunities for stock preparation to contribute to overall production efficiency.
All the technologies described are now in operation in real mill situations based on TT SAF technology (patent pending).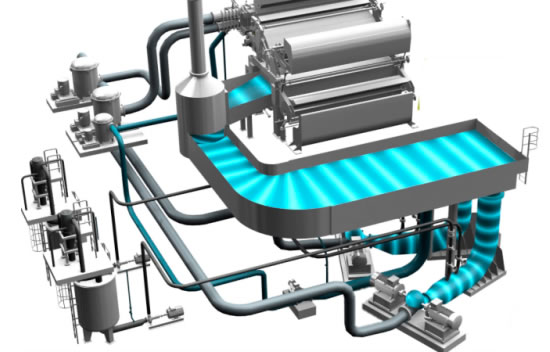 COMPACT, NOT COMPROMISE
As you might expect, the story starts with the pulper. The design is compact, but without compromising capacity thanks to increased working consistency. A redesigned impeller minimizes batch timing (batch time should be a consistent priority through any pulper optimization) and improves performance thanks to superior slushing. The bottom line is that efficient mixing at a higher consistency – in other words the same quantity of fiber processed with less water – also brings significant reduction in specific power consumption.
In the approach flow, one of the central innovations is the replacement of the mixing tank, agitator and discharge pump with a simple concept which performs the functions of all these elements (the TT Mix). The key is to introduce the substances to be mixed in the correct way and then leave it to the extremely efficient vortex action of the funnel to provide effective mixing while reducing space required and energy consumption.
REDUCE VOLUMES, SPEED UP CLEANING, IMPROVE EFFICIENCY
Of course all volume reductions help to speed up routine cleaning procedures, which any mill would welcome. Static mixers have a reputation for gathering a build-up of fibers, but this can be avoided using the solution already described which does away with the mixing tank (TT Mix has no inserts and no moving parts – the elimination of moving parts is another key focus of our research, because of its positive implications for maintenance and energy saving). Automatic cleaning sequences further rationalize the management of the line and create more efficiencies.
Screens provide an excellent opportunity to improve operational efficiency. The re-engineering of the screen has been focused on the fluid dynamics and ease of maintenance. Overall, such carefully-considered screen design ensures a constant speed of stock through the basket, saves energy and ensures high deflocculation. Another area in which time savings and therefore energy savings can be achieved is in control loops.
Equally, attention paid to first pass retention will always be rewarded. This measure of the percentage of useful fiber which makes it through to the tissue machine in the first pass through the approach flow system is aided by efficient flume and deaerator design. Overall, the higher the first pass retention, the less pumping energy is required. The TT Deaerator itself has no moving parts which require maintenance and it uses centrifugal forces to reduce entrained air.
CONSIDER YOUR PUMPING OPTIONS
Pumping is another major source of energy consumption in the tissue mill and therefore provides an ideal opportunity for energy saving. Minimizing the pumping energy required through intelligent mill layout and accurate piping design is the first obvious step, but there are technology issues to contend with, too.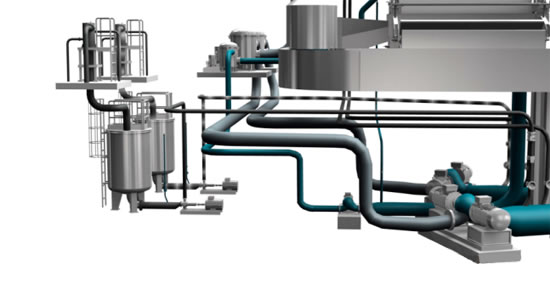 HEADBOX CARRIES ON THE GOOD WORK
This particular story goes as far as the headbox. It has proved possible to redesign the headbox screen to boost cleaning efficiency and reduce energy consumption while maintaining the high deflocculation and other benefits of the original. The focus in the TT Headbox itself has been to ensure quick response to product changes – after all, you can have the most nimble stock preparation system in the world, but if the headbox's response is lethargic then all benefits are lost.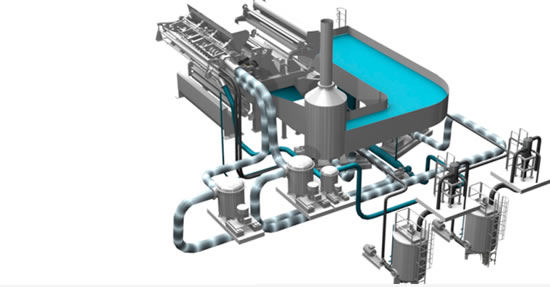 THE NEXT STEPS
Evolution never stops, and the current focus is on the water cycle, and technologies to minimize power consumption in the process of mixing air and water for the flotation process. Once again we should emphasize the need to optimize layout to reduce the power required for pumping. Elimination of unnecessary tanks and reduction of tank volumes has already yielded strong results.
The desire to reduce chemical use still further also continues to inspire research, with hydraulic mixing being a key focus of our attention. And of course stock preparation is part of a complete project, with numerous energy saving opportunities which we are working on constantly, but which could provide material for several articles. Today, it is only really as a turnkey supplier with expertise throughout the tissue making process, that it is possible to optimize production from an energy perspective, and indeed from all perspectives.