Online sizing and calendering
Surface improvement and good mechanical strength properties are the focus in a market that always demands stronger paper and better appearance and printability.
Online sizing of the paper is standard for many P&B grades.
It is used for paper surface finishing quality or to enhance the mechanical characteristics. Toscotec size presses can satisfy the market needs. Easy operation, maintenance and clean operation are drivers of the Toscotec design. Toscotec size presses feature an optimal penetration of size in the paper providing higher strength (RCT, CMT, burst, etc.) and paper surface properties.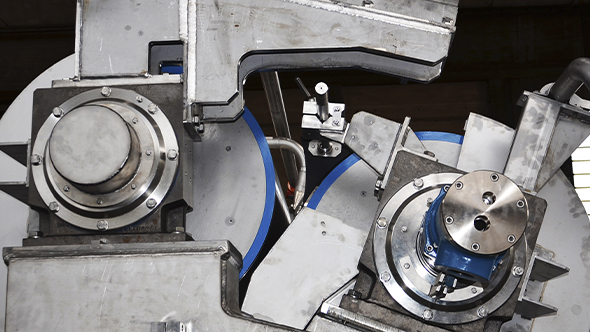 TT FilmSizePress. In a modern film applicator concept, the metering process in done through a grooved rod.
The grooved rod is used to volumetrically meter the color film (usually it is starch for packaging grades and could be pigment on fine paper) to the applicator rolls, then transferred to the paper through pressure as the sheet passes through the applicator rolls nip. Film thickness is related to the rod void volume.
Toscotec TT FilmSizePress can run different rod diameters and shapes according to the application needs.
TT FilmSizePress can be with inclined or horizontal applicator rolls nip as hybrid version. This makes it possible to operate as a puddle or Film Sizer according to the paper grade and basis weight. The TT FilmSizePress metering head design guarantees thermal and mechanical stability during loading and operation.
TT PondSizePress. TT PondSizePress is the traditional "pond" solution for those applications where the low paper machine speed, basis weight and paper quality parameters allow the safe use of this concept.
The applicator rolls nip can be designed as horizontal or slightly inclined. The pond level control and stability are maintained through an innovative distribution system for proper dosage of starch, kaolin or glue solutions on one or both paper sides.
Calendering is often tailored to each specific application and specific needs for each mill.
To obtain the required surface finishing and caliper profile without destroying the mechanical properties is a combination sometimes not easy to reach. Toscotec engineers and paper makers can support the customer to determine the proper calender design.
TT Calender-H and TT Calender-S. Toscotec calender series H-Hard and S-Soft can be supplied with various combinations of roll diameter, temperature and nip load range.
Toscotec has developed a range of calender units that can satisfy all required finishing characteristics of the Paper & Board producers. Toscotec's product range includes calenders equipped with: solid roll, TT ControlCrownRoll and heated roll with hard or soft cover.