TT SS.
The Toscotec Superscreen TT SS is a horizontal screen with basket and rotor designed to be installed as a coarse or fine screen in recycled paper stock preparation plants. It is optimal to treat stock up to a working consistency of 5%.
This unit has been designed to obtain a high level of screening, and thanks to its flexibility, it can be equipped with drilled or slotted baskets that have a total open area chosen according to process requirements. Minimum power consumption is assured by optimized hydraulic flow patterns.
The stock is tangentially fed to the unit and the front chamber prevents heavy contaminants to be forced between the basket and the rotor. The specific shape of the rotor enhances fiber screening and rejects separation while keeping the basket clean. The accepted stock is collected in the peripheral chamber while the rejects reach the back of the body where they are collected and sent to further treatments.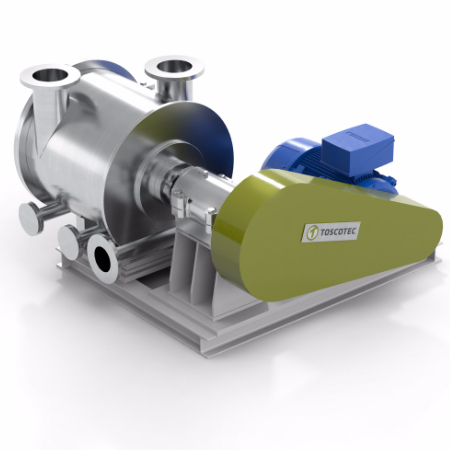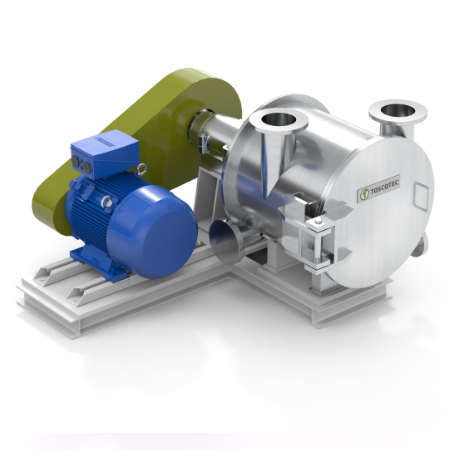 When used as final screening stage, it can be equipped with a junk trap for heavy reject removal with minimal fiber losses and maximum consistency. If it is set to continuously discharge the contaminants, its reject rate can be controlled by DCS.
The Toscotec Superscreen TT SS basket is completely manufactured in stainless steel and the design of the rotor and basket make it highly resistant to wear and guarantees a very long life. The design of the Toscotec Superscreen TT SS reflects the long term experience of Toscotec in recycled paper treatment and its ability to manufacture simple but effective equipment that is easy to maintain.
Cleaning and Screening Systems