TT MBP.
The Toscotec Broke Pulper TT MBP is designed to be installed under machine both in tissue, paper and board applications.

The vat dimensions, shape, the rotor number and position, the showers location, and flow rates are chosen in order to guarantee a reliable pulping in any circumstance regarding to paper grade, machine width, and speed, all while using the space available in the most efficient way. The propeller group can be installed both on stainless steel and concrete vats with a vibration isolation ring and two pulpers can be placed on the same unit. The vat is designed to have optimum pulp circulation and avoid dead zones; applied deflectors reduce splashes and improve draw-in of the pulp.

The rotor forces the stock to pass through the filtering plate and into the collecting vat from which the discharge pump pulls and then feeds the pulp to the stock preparation system. Rotor and vat shape are designed in order to optimize the fluid dynamics thus minimizing the absorbed power. The slushing efficiency of the Toscotec Broke Pulper TT MBP is so high that no deflaker is needed downstream, even when producing wet strength paper.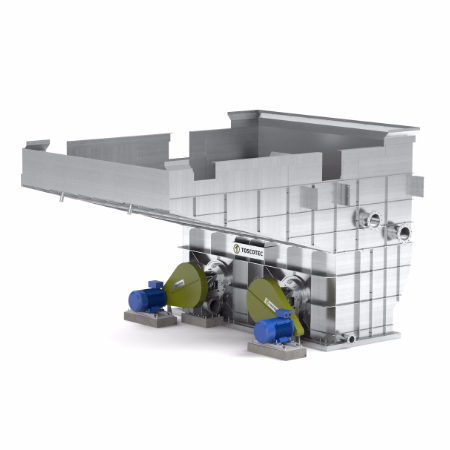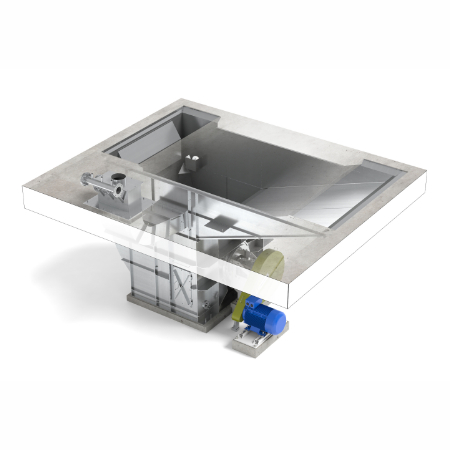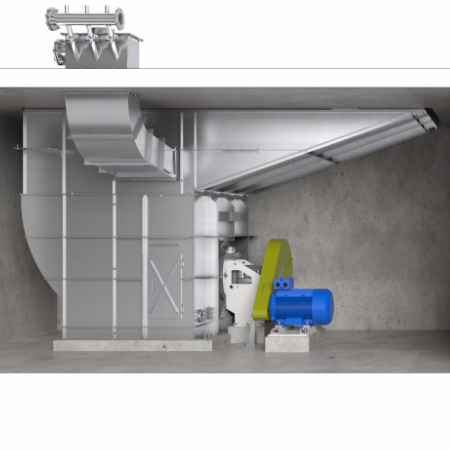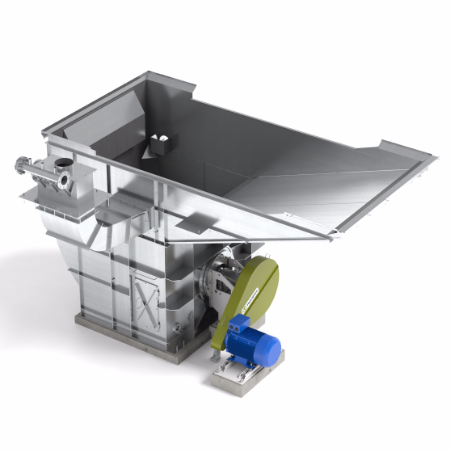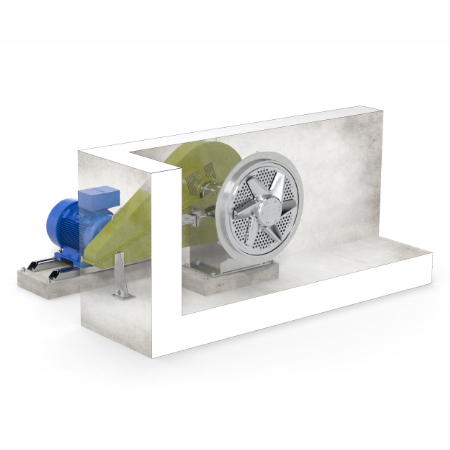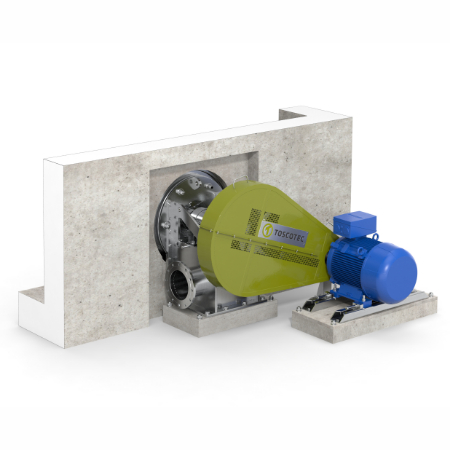 On tissue machines, one single Toscotec Broke Pulper TT MBP can be used to accept inputs from both the full sheet break at the Yankee and the waste reel cut at the pope reel.
Toscotec proven DCS logics allow to control the Toscotec Broke Pulper TT MBP to automatically have continuous operation both in trims and in sheet break circumstances by modulating the stock level and the discharge pump flow rate while keeping the consistency in the vat constant. The drive system can be either a gearbox or belts and pulleys arrangement.

Regular maintenance can be performed from outside of the vat however the machine is designed so reliable it makes maintenance very seldom and easily done. The vat is equipped with a large man-door and maintenance tools to let the operator enter for cleaning, to adjust the gap between rotor and plate, or to replace them without the need to detach the propeller group from the vat.

Existing under machine pulpers can be upgraded by retrofitting the TT MBP pulper rotor to meet increased process requirements.