TT VS-1.
The Toscotec Vortiscreen TT VS-1 is used in recycled paper stock preparation plants mainly for the detrashing of the continuous TM Pulpers and as a dumping machine of high consistency batch pulpers. The unit is sized according to the expected contamination level of the pulp. Its characteristics provide an efficient fiber recovery.
The Toscotec Vortiscreen TT VS-1 is designed to work in batch mode and can be supplied all the valves necessary to automatically manage the working and washing/discharge cycles. The stock is axially fed to the end of the unit through the central feeding pipe. The impeller forces the accepted fibers through the filtering plate.
Its design prevents any stringing which allow the maximum concentration of the rejects.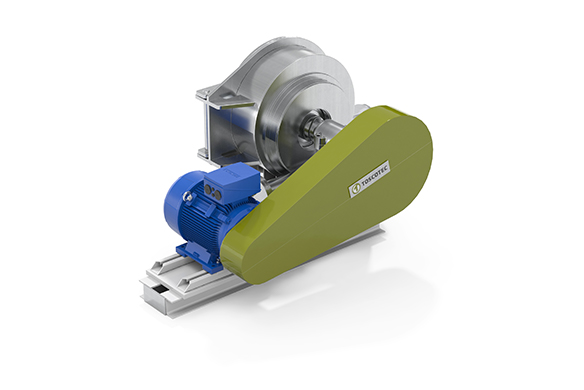 The contaminants are accumulated in the vat and are discharged to downstream equipment (Toscotec Rotating Screen TT RS) for reject de-watering. It has a natural pumping effect, which means no pump is required to feed or discharge the Toscotec Vortiscreen TT VS-1.
In order to optimize the performance of the TT VS-1, it is possible to set the duration of each sequence phase on the DCS.
Cleaning and Screening Systems