Paper machine press section represent a key area for rebuilds to improve quality of the paper and energy savings.
With its latest press section designs and references, Toscotec has focused on ease of operation and overall plant efficiency. Solutions have been developed on various grades to reduce free draws, paper breaks, and of course increase dryness out of the press section.
It is important to note that all these factors are strictly related to the mechanical properties and characteristics of the paper while focusing on the best compromise between dryness and bulk. Thanks to their flexibility, Toscotec press sections are the ideal solution both for new paper mills and rebuilds.
TT XPress and TT NextPress-P.
Toscotec strongly believes in shoe press technology and has been investing time and resources to develop specific products for all applications.
Toscotec offers specifically designed shoe presses:
TT XPress: packaging, high nip load application.
TT NextPress-P: high bulk paper, special paper application.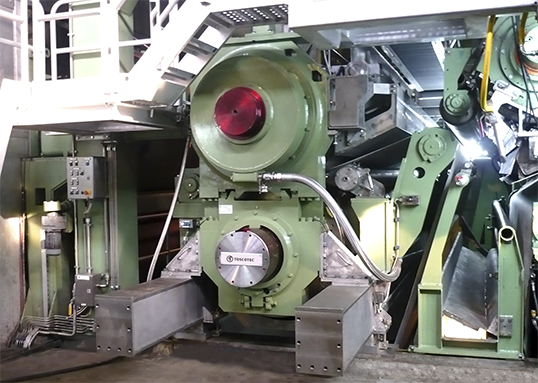 The TT XPress and TT NextPresss-P are the right solutions to improve moisture profile and increase paper dryness out of the press section.
The shoe press nip is formed between the counter roll and full width shoe.
For the TT XPress, this nip ranges from 200 to 350 mm.
The resulting nip dwell time is approximately three times longer than that offered by a conventional Jumbo press. Design Nip load for the packaging grades can ramp up 1,300-1,400 kN/m. TT NextPress-P is tailored with different combinations of Nip Load, shoe width and diameter according to the specific application.
TT XPress and TT NextPress-P feature a double-row loading system of pistons. With this feature, it is possible to adjust the tilt (different oil pressure on the two rows) while the machine is running; hence the loading curve can be tuned in accordance with the paper grade and desired mechanical characteristics with relation to the dryness out of the press section.
The TT XPress and TT NextPress-P are flexible units that can be easily installed and adapted for press rebuilds.
TT CouchRoll, SuctionPressRoll and PickUp.
Toscotec product portfolio includes suction rolls suitable to be used as couch roll, press roll, suction pick-up or transfer roll.
The design is tailored according to the application and can satisfy all needs with relation to the diameter, shell material and covers. The new design has enabled rolls with internal bearings to be removed in conjunction with the internal suction box for easy maintenance.
Thanks to the Toscotec design, suction rolls can also be supplied without internal bearings and with shaft-mounted gearbox drive where it is required. Suction rolls feature the deckle adjustment if required by the application.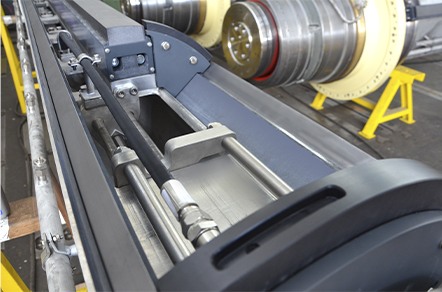 With press roll diameters up to 1,550 mm, the TT JumboPress offers a solution combining lower installation costs and efficient water removal.The TT JumboPress can be an alternative where the investment or requirements don't justify a shoe press installation. Jumbo presses may be supplied single or double-felted and covered with elastic or ceramic material.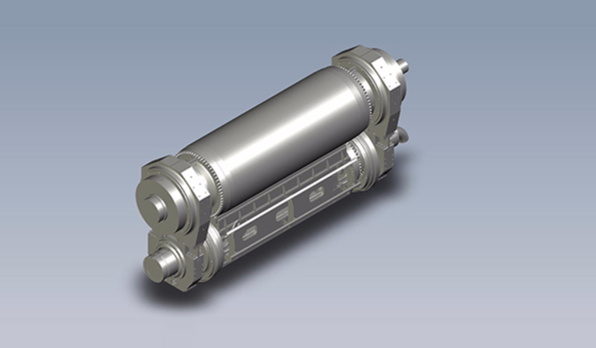 Visy Paper started up VP5 in Melbourne, Australia, after Toscotec's Press Section Upgrade
Visy Paper PM5 has successfully started up in end of March 2015 at Coolaroo, Melbourne – Australia, after a press section upgrade carried out by the Italian company Toscotec. VP5 paper machine produces coating base sheet and test liner for export, from recycled paper.