TT TM.
Optimized to work with heavily contaminated recycled paper or with rewinder trims, the Toscotec Low Density Pulper TT TM is designed to perform an extremely efficient and low energy slushing in continuous mode and to remove rejects without breaking them.
The shape of the vat and the eccentrically arranged rotor design optimize the slushing effect on fibers at 5-6% consistency without creating troublesome vortexes that could disturb the cleaning process.
The rotor, that is vertically adjustable to keep the distance to the filtering plate constant, is completely manufactured in a specific stainless steel highly resistant to abrasion and corrosion. It is also equipped with bottom foils to keep the filtering plate clean.
The filtering plate is located on a raised extraction chamber which extends the life of the pulper components in order to minimize maintenance and replacement costs and avoid breaking the rag.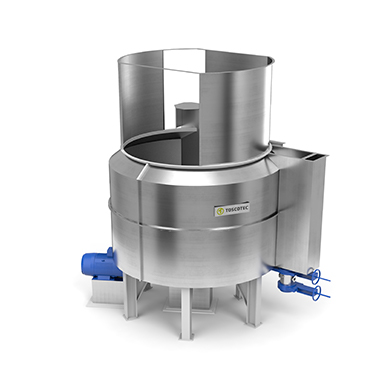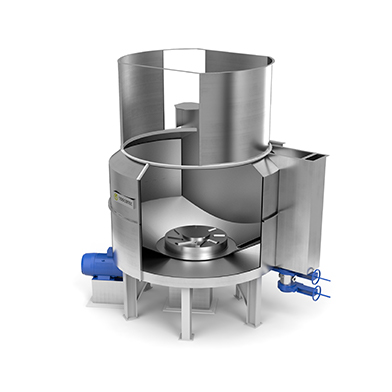 The shaft seal can be provided with a stuffing box or mechanical seal. The area is easily accessible during pulper operation without need of removing covering. The motor power transmission can be made with belts & pulleys or, for larger sizes, with orthogonal gearbox. The pulper can be installed in combination with a secondary pulper (TT Vortiscreen and/or TT Rotating Screen) in case of application on recycled paper.
Accessories, such as the heavy reject junk trap and the side discharge door, can be added to the unit depending on the application.
In all its configurations, the Low Density pulper features reliability and ease of maintenance.